"The Supreme Court's decision overturning Roe v. Wade is a blatant attempt to bring us back to the dark ages," said Reverend Sharpton. "It will disproportionately impact Black women and poor women. This must be resisted aggressively. States must enact laws to protect women."
Today's ruling leaves abortion legality up to the discretion of inpidual states — 26 of which are likely to ban abortion through trigger laws, 6- or 8-week bans, or near-total bans. A leaked draft of the decision in early May sparked widespread backlash across the country from pro-choice supporters and activists, who assert that removing this right will only lead to unsafe, clandestine abortions and force women to carry unwanted pregnancies to term.
NAN Condemns US Supreme Court Ruling on Guns
As the debate around gun control rages on—in the wake of the deadly shootings in Buffalo an Uvalde—the US Supreme Court has struck down a New York law restricting gun-carrying rights. The ruling expands gun rights and can have implications for California and New Jersey.
"The Supreme Court decision on carrying a gun in New York is devastating and potentially dangerous," said Reverend Al Sharpton. "This ruling could not have come at a worse time, as we have been working to de-escalate gun violence in the city. It has never been more important for Congress to pass meaningful legislation to combat the epidemic that is gun violence in this nation."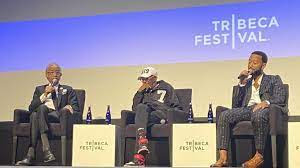 Rev. Al Sharpton, Spike Lee, and Producer john Legend do a talk back after the premiere of "Loudmouth" at the Tribeca Film Festival
Deadline.com
Documentary on Reverend Sharpton Closes Out Tribeca Film Festival with Positive Reviews
Last weekend, hundreds of people traveled to New York City to catch a glimpse of Loudmouth, a documentary focused on Reverend Al Sharpton and the civil rights movement that he waged in New York City. The documentary –directed by Josh Alexander and produced by musical icon John Legend—received positive reviews.
"Sharpton has been accused of spotlight seeking. In the doc, that's by design in that Sharpton, from early on, was deliberate about being loud, ubiquitous and on TV whenever and wherever possible as the best strategy to change the narrative and eventually the law around social justice," wrote Variety. "The family of George Floyd was in the audience for the premiere of the documentary at the Tribeca Film Festival. The fest's closing selection ushered in the national Juneteenth holiday."
The event, held last Saturday at the Borough of Manhattan Community College, "celebrated Sharpton with the kind of big-screen portrait that has been commonplace for an older generation of civil rights leaders, but had, until Loudmouth, eluded the 67-year-old activist," noted ABC News. "Loudmouth contextualizes Sharpton's legacy as an extension of Martin Luther King Jr., Malcolm X, the Rev. Jesse Jackson, Rep. John Lewis and others, while at the same time chronicling his unique longevity despite plenty of naysayers along the way.
The genius of the documentary is that it provides a nuanced understanding of the movement but cautions against the very idea that racism is a thing of the past.
Sharpton often returned to the question of how much has changed in the last half century. Sharpton recently gave eulogies for several victims in Buffalo of last month's racist mass shooting that killed 10 people in a supermarket. Still, he said he also sees great progress, and more Black people in power than ever before.
"We're not out of the woods yet," Sharpton said at the screening of the documentary last Saturday. "But we've done enough paths in the woods to believe we can get out."