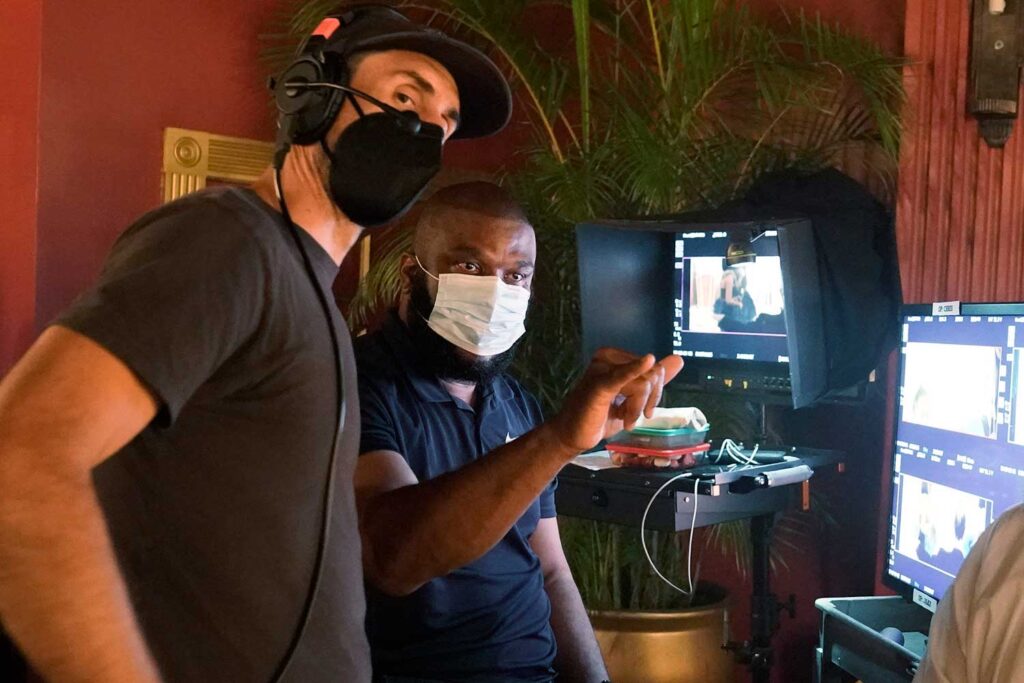 You've had this story in your back pocket for a long time. What was the original catalyst for the idea and how did it involve August Wilson?
TYLER PERRY
Many years ago Seven Guitars was playing at the Alliance Theatre in Atlanta and I couldn't afford to go, so I snuck in at intermission. There was an after party where I got a chance to sit down with August Wilson and I told him what I wanted to do – all my hopes and dreams. He was very encouraging of the story that I wanted to write, so I went home and started writing A Jazzman's Blues that night. I had this story for a while, but his way of storytelling in Seven Guitars was very inspirational to me. He was explaining how all things are art and I should absolutely go for it. He was very, very kind.
You have a very fresh face in Solea Pfeiffer, an accomplished stage actress playing her first film role as Leanne. And though Joshua Boone is more seasoned this is certainly one of his largest roles to date. Why were they just right for Leanne and Bayou?
TYLER PERRY
I've always been known for breaking new talent and I didn't want
Jazzman to be any different.
First of all, I was blown away when I saw Solea, I thought, "Oh my God, this is Leanne." I saw it immediately. And to see the level of talent that she was able to bring to it was really phenomenal.
Then to have Joshua come along and be as brilliant as he is and have this level of, just not only acting as a talent, but just the way he was able to become and settle into Bayou, blew my mind. And then on
top of that, he could sing! The whole cast is amazing. Ryan Eggold who I worked with in "The Single," Moms Club, Amirah Vann, Austin Scott. For actors to train and study and dive into and get every inch
and iota of what a character is, I just don't see a lot of young talent doing that and these guys and girls were phenomenal at it. That's why I was able to paint so many colors.
Given how long you have had this idea, it is an interesting time to release A JAZZMAN'S BLUES considering how timely so many of its issues are. How does it feel to be releasing it in this moment?
TYLER PERRY
It's a wonderful feeling, but also it's tragic in the sense of, it showed up again in my life and I'm doing it at a time when there are so many people who are trying to eliminate the truth of the history of us as
African American people. Some people who saw it said to me, "It's a love story, but it's so tragic." And I was explaining to them, "Well, for us as Black people in America, a lot of our love stories at this
time were tragic. We didn't have the option to run away and live happily ever after. There were many things we had to overcome." So I don't want to water down our history or do away with it because I think
it's very important that we remember and acknowledge it and understand it.
While it is fiction, there is a real true story feel to this film and it oscillates through multiple tones. There is the drama and fear around racism in the deep South but there are also lighter moments in the musical interludes in the juke joint and the club and real elements of joy and humor. From a
writing and directing perspective how do you calibrate those tones into a cohesive whole?
For me, growing up in New Orleans, that is the way I saw life. Life was always surrounded by all kinds of music and all different generations and levels of people. To show us having levity and having joy inside of those moments, is so much a part of the Black experience because no matter what was going on with us, there was joy. And I think it was very
important that all of these characters were able to experience and express that and also show the world how embracing that is and how encompassing that is for us when we're in the safety of our own
element.
But literally right outside the door was danger. Even today, it's sad to say, literally right outside the door, we're faced with dangers, a lot of us, because of the color of our skin. So I loved being able to
show the different sides of us, that despite how much society tries to break us, we still find joy. Visually, the film is evocative of the sultriness and humidity of the South while capturing its natural
beauty. Where did you shoot and what was the aesthetic you were trying to capture? All of the interiors were shot at my studio and all of the exteriors were shot in Savannah and Macon, Georgia. And yes, there's just something about Spanish moss on an oak tree, blowing in the wind that tells the story within itself. And to understand that these trees that we were shooting amongst lived during this time. They bear witness to what it was really like, so dropping these houses and these sets inside of that kind of history of trees around us, it really helped to tell the story.
Do you think the film actually taking so long to come to fruition actually helped in terms of honing your skills as a director?
TYLER PERRY
Yes, I'm glad I didn't do it 10, 20 years ago. It took the years of experience I had of being behind the camera and really understanding what that meant. It took working with directors like David Fincher and
Adam McKay to really understand just the power of using the camera to tell a story. For me, in the beginning of my career, it was just about using the camera to tell the story, but I didn't necessarily use it as a paintbrush. And my cinematographer Brett Pawlak, he read the script, we talked about it, I told him what I wanted it to look like and what I wanted it to feel like and he was absolutely brilliant in understanding it and helping me paint the image.
You also got to work with your buddy Debbie Allen on the choreography. How was that experience?
TYLER PERRY
I brought the script to Debbie maybe 20 years ago. She was working at Dreamworks at the time and she loved it. We tried to get it done and nothing happened at the time. But then I brought it back around to
her and I said, "Listen, I'm going to do this film and I'd love for you to do choreography." She's like, "Are you kidding me?" So to work with a legend? It was wonderful because Debbie Allen is dance. And to have her create these incredible numbers that really sold the whole moment. I was very, very fortunate to get that opportunity.
Speaking of legends, Terence Blanchard lending his skills with "Paper Airplanes" must have also been exciting.
TYLER PERRY
Yes, it was very important to me to gather the best of the best. My New Orleans homeboy Terence Blanchard's body of work is just phenomenal. He understands and gets jazz fully, so to have him be a part of it was another diamond in the ring, just to make it what I always imagined it could be. And what was it like working with Ruth B.? I was overjoyed to work with Ruth B. who co-wrote and performed our song "Paper Airplanes." This was a song we wanted to be an instant classic that would sound at home in 1947 as well as today. A great song is an extension of dialogue and "Paper Airplanes" is exactly that. It speaks of heartbreak and the longing of love that spans distance, time, and tragedy. Ruth B. brought all of that to this magnificent
song.
You re-teamed with Aaron Zigman for the score with whom you've worked several times. Do you feel you have a shorthand with him?
TYLER PERRY
He and I have been working together for many years and I am always blown away by him. He's another person who read the script 20 years ago and thought, "We have to do this one day." So when the
opportunity came, I was like, "I've got to go back to Aaron." I think that he really helps frame it all. What do you hope viewers take away from the film? The story and the passion of these people. And even though it's a fictional movie to understand that these people actually existed, these struggles were common, these things actually happened. And if
there's a reverence for the past and we shouldn't let anyone whitewash it and turn it into something that it wasn't. If people start to realize how important it is that we maintain and tell these kinds of stories,
then I think that it would be all that I want it to be.