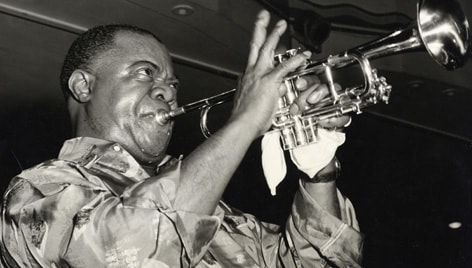 Release date: Fall 2022
"Louis Armstrong's Black & Blues" offers an intimate and revealing look at the world-changing musician, presented through a lens of archival footage and never-before-heard home recordings and personal conversations.
This definitive documentary, directed by Sacha Jenkins, honors Armstrong's legacy as a founding father of jazz, one of the first internationally known and beloved stars, and a cultural ambassador of the United States.
The film shows how Armstrong's own life spans the shift from the Civil War to the Civil Rights movement, and how he became a lightning rod figure in that turbulent era.
RELEASE DATE
Coming Soon
PRODUCTION COMPANIES
Imagine Documentaries
Polygram Entertainment
Louis Armstrong in "Louis Armstrong's Black & Blues," coming soon to Apple TV+.
Cast & Crew
Sacha Jenkins
Director
Producers
Sara Bernstein
Producers
Justin Wilkes
Producers
Julie Anderson
Producer
Brian Grazer
Executive Producers
Ron Howard
Executive Producers
Michele Anthony
Executive Producers
David Blackman
Executive Producers