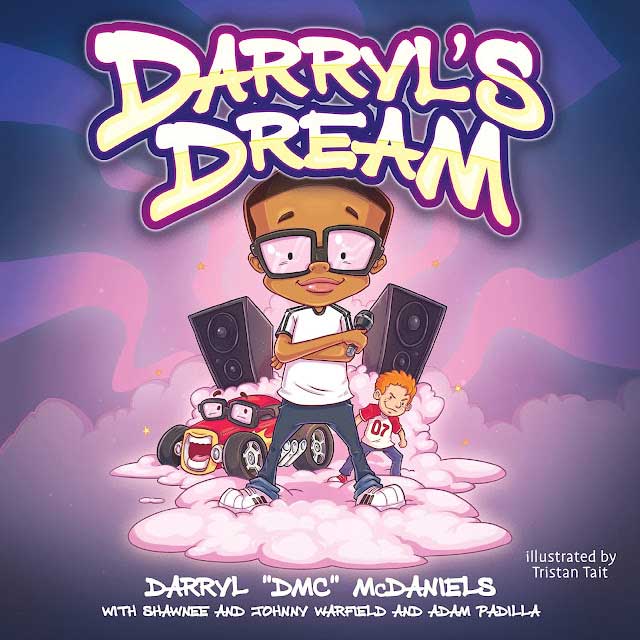 Random House Children's Books is releasing a new picture book by Darryl "DMC" McDaniels, founding member of the rap group Run-DMC. The title, Darryl's Dream, will come out in print and ebook form under the Random House Books for Young Readers imprint on January 4, 2022, as well as in an audiobook edition, read by McDaniels and offered through Listening Library.
The book is based on McDaniel's childhood and is about a shy third grader who wears thick glasses and, despite being teased, wants to share his talents in rhymes. Its themes include creativity, confidence, and finding your voice, as young Darryl learns to celebrate himself.
"Darryl is a music pioneer and legend and has been doing a lot to improve the lives of children," Chris Angelilli, Random House's v-p and editor-in-chief of licensed publishing, told Publishers Weekly. Some of McDaniels's achievements include launching The Felix Organization, a nonprofit supporting kids in foster care, appearing before Congress on behalf of adoptees and foster kids, working with Michelle Obama on her Let's Move! campaign, and speaking on respect and responsibility. He also owns a comic book company called Darryl Makes Comics and has made appearances at Comic Con. "He's a real humanitarian and renaissance man," Angelilli said.
ViacomCBS and McDaniels developed the project and presented the finished book to Random House. "We liked the story and the message, and the illustrations," said Angelilli, who added that serious discussions are ongoing about more books for 2022 and into 2023, including more titles featuring the young Darryl character as well as other formats.
Random House is one of the first licensees of ViacomCBS and Nickelodeon's new cross-category licensing program centered on McDaniels, who is also providing his voice for the literacy program What's the Word? on the company's Noggin interactive leaning service. Books from Random House, one of Nickelodeon's longtime publishing partners, join other McDaniels products including apparel and accessories available through the Nickelodeon store on Amazon.
Darryl's Dream information:
From hip-hop pioneer Darryl "DMC" McDaniels comes Darryl's Dream, a new picture book about creativity, confidence, and finding your voice.
Meet Darryl, a quiet third grader with big hopes and dreams. He loves writing and wants to share his talents, but he's shy—and the kids who make fun of his glasses only make things worse. Will the school talent show be his chance to shine? Darryl's Dream, by iconic performer Darryl "DMC" McDaniels, is a story about finding confidence, facing bullies, and celebrating yourself. This full-color picture book is certain to entertain children and parents with its charming art and important message.
Publisher ‏ : ‎ Random House Books for Young Readers (January 4, 2022)
Language ‏ : ‎ English
Hardcover ‏ : ‎ 32 pages
ISBN-10 ‏ : ‎ 0593487745
ISBN-13 ‏ : ‎ 978-0593487747
Reading age ‏ : ‎ 3 – 7 years
Grade level ‏ : ‎ Preschool – 2
Item Weight ‏ : ‎ 15.2 ounces
Dimensions ‏ : ‎ 10.25 x 0.32 x 10.31 inches