– MVP Joe Johnson Shines as Triplets Win BIG3 Championship –
– 3 Headed Monsters Beat Power to Finish Third as Corey Maggette Announces BIG3 Retirement at Halftime –
– LeBron James, Rich Paul, Snoop Dogg, LL Cool J, Ice Cube, Montrezl Harrell, Jared Dudley, O'Shea Jackson Jr. and Many Other Stars Come Out to Enjoy Season Finale –
– Coach of the Year Lisa Leslie Becomes Second Female Head Coach to Win BIG3 Title –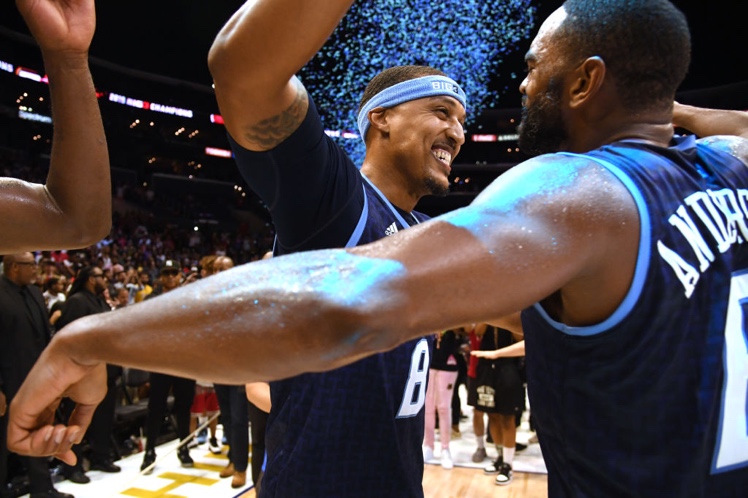 Images licensed by Getty Images and BIG3
If you do not have a subscription with Getty Images, email press@big3.com to request permission
Los Angeles, Calif. – September 1st, 2019
Triplets become first expansion team to win BIG3 Championship, finishing season at 9-1.
Coach of the Year Lisa Leslie and MVP Joe Johnson take home the title, as Johnson scores 28 points.
Ice Cube performed at STAPLES Center as Snoop Dogg and LL Cool J participated in his Championship performance.
Over 12,000 in attendance for the games.
Getty Images: Week 11 in Los Angeles
Game Recaps:

Triplets 50 (9-1) vs Killer 3's 39 (6-4)
Video Highlights: https://youtu.be/2FOSnJhL3Fs
In the most anticipated game of the day, Killer 3's and Triplets faced off for the 2019 BIG3 Championship. Coach of the Year Lisa Leslie, MVP Joe Johnson and the Triplets took on a hungry Killer 3's team featuring Stephen Jackson, Frank Session, Charles Oakley and company.
Triplets, the number one team in the league, continued their hot streak in this one as Joe Johnson flourished throughout this game. Leading by as many as ten points, Triplets let their lead slip to Killer 3's late when the score was 41-39. After that point, they'd go on to score nine straight including a game winning three-pointer from none-other than Joe Johnson.
Top Performers:
Triplets
Joe Johnson                           28 PTS, 6 REBS, 2 ASTS
Killer 3's
Stephen Jackson                    19 PTS, 9 REBS, 1 BLK
3 Headed Monsters 50 (5-5) vs Power 42 (5-5)
Video Highlights: https://youtu.be/cmwUZ0Gsezo
The first game of the day featuring 3 Headed Monsters and Power was a battle of two returning playoff teams.
Despite Jeremy Pargo's 18 points and Corey Maggette's retirement, Power found themselves trailing for most of the game. 3 Headed Monsters implemented a balanced offensive attack which started with Mario Chalmers hitting two four-point shots early in the game. Four 3 Headed Monsters ended the game in double figures and the newly acquired Rodney Carney was a big difference maker in the game scoring 11 points.
3 Headed Monsters held the lead and never let up. Late in the game there were a couple of moments where Power could have made a comeback. But, it was too little, too late and 3 Headed Monsters ended up taking the victory finishing 3rd in the league once again.
During halftime, Corey Maggette announced his retirement from the BIG3. A three season veteran, Maggette was recognized by the BIG3 for his work with the league and the community.
Top Performers:
Power
Jeremy Pargo                  18 PTS, 5 REBS, 6 ASTS
3 Headed Monsters
Rodney Carney                11 PTS, 1 REBS
###
ABOUT BIG3: BIG3 (BIG3.COM) is where basketball superstars play. The premier half-court, 3-on-3 basketball league, BIG3 features many of the greatest, most popular and skilled players of all time.  Founded by producer, actor and music legend Ice Cube and entertainment executive Jeff Kwatinetz, the BIG3 combines highly competitive, physical, fast basketball and incredible fan experiences.