Stephen Jackson and Killer 3's Upset Defending Champion Power to Advance to Championship Game –
– Triplets Continue Hot Streak and Beat 3 Headed Monsters Becoming First Expansion Team to Make Championship –
– Performance From Juvenile Adds to Incredible Playoff Atmosphere –
– Bivouac Beats 3's Company to Finish in Fifth Place –
– Curren$y, Juvenile, and New Orleans Pelicans Trajan Langdon, David Griffin, Alvin Gentry, Jaxson Hayes and Kenrich Williams in Attendance to Take in Playoff Action –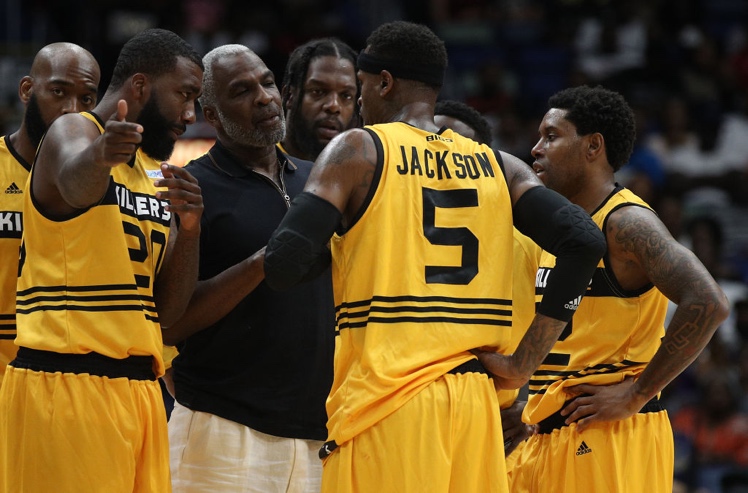 Images licensed by Getty Images and BIG3
If you do not have a subscription with Getty Images, email press@big3.com to request permission
New Orleans, La. – August 25th, 2019
Power upset by Killer 3's, as Killer 3's advance to first championship.
Game-winning three-pointer from Joe Johnson sends league-leading Triplets to championship.
BIG3 continues next week in Los Angeles at STAPLES Center on CBS at 3PM EST. Pregame show on CBSSN beginning at 2PM EST.
Today's attendance was 11,003.
Getty Images: Week 10 in New Orleans
Game Recaps:
Bivouac 50 (5-4) vs 3's Company 36 (4-5)
Video Highlights: https://youtu.be/GcM9tsMnOXc
The first game of the Big3 playoffs saw Bivouac put together one of their most complete games all season. Led by Josh Smith, who scored 16 of the team's points, 3's Company allowed Bivouac an early lead and never could get back in the game.
Despite Andre Emmett's 18 points and 11 rebounds, Bivouac held the rest of 3's Company to 18 points with four of those coming from a Drew Gooden four-pointer. Bivouac did a good job of parlaying their defensive intensity to instant offense with Will Bynum, Josh Smith and C.J. Leslie combining for 44 of the team's 50 points.
Top Performers:
Bivouac
Josh Smith                16 PTS, 11 REBS
3's Company
Andre Emmett           18 PTS, 11 REBS

Killer 3's 50 (6-3) vs Power 42 (5-4)
Video Highlights: https://youtu.be/bUXfT0ocSfs
In the second game of the day, Killer 3's faced off against defending champion Power. Power, who were coming off two straight losses, had Glen Davis available after his injury scare last week in Dallas and were looking to get back to winning ways. But, Stephen Jackson and company fought hard early and solidified a five-point lead going into halftime.
As the game went on, Killer 3's role players continued to do damage as Power struggled to get last season's MVP Corey Maggette going. Maggette, who averaged close to 20 points per game this season, had 9 in the game and was defended well by Killer 3's. On the other side, Killer 3's had three players in double figures and were continuing to get easy baskets due to turnovers they created.
Late in the game, when Killer 3's were four-points from victory, Power had two costly turnovers that amounted to the four-points Killer 3's needed to seal the deal. Power's new addition Jeremy Pargo was the bright spot for the team as he had the game's only four-point shot and ended up with 10 points.
Top Performers:
Killer 3's
Stephen Jackson         13 PTS, 6 REBS
Power
Glen Davis                   12 PTS, 2 REBS, 3 ASTS

3 Headed Monsters 39 (4-5) vs Triplets 50 (8-1)

Video Highlights: https://youtu.be/0o9LSgj1e5U
3 Headed Monsters entered this game feeling confident based on the way they'd played Triplets just two weeks ago in Milwaukee. Early on, it looked as though it would be close. 3 Headed Monsters, with the help of Reggie Evans, Rashard Lewis and Mario Chalmers, would go into halftime down just four-points and looking like a threat to take the lead at any given moment.
But, in the second half, Triplets continued to weather the storm with their catalyst Joe Johnson scoring 26 of the team's 50 points. At 47-39, it was none other than Iso-Joe to hit yet another game winner.
Triplets become the first expansion team to reach the championship and lead the league with an 8-1 record going into the Finals. Once again, 3 Headed Monsters make the playoffs for the third consecutive season, but miss out on another chance at the championship trophy.
Top Performers:
3 Headed Monsters
Mario Chalmers       14 PTS, 6 REBS
Triplets
Joe Johnson            20 PTS, 8 REBS
###
ABOUT BIG3: BIG3 (BIG3.COM) is where basketball superstars play. The premier half-court, 3-on-3 basketball league, BIG3 features many of the greatest, most popular and skilled players of all time. Founded by producer, actor and music legend Ice Cube and entertainment executive Jeff Kwatinetz, the BIG3 combines highly competitive, physical, fast basketball and incredible fan experiences.
MEDIA CONTACTS:
OLIVER MARONEY
THOMAS CAUGHLIN
HILTZIK STRATEGIES