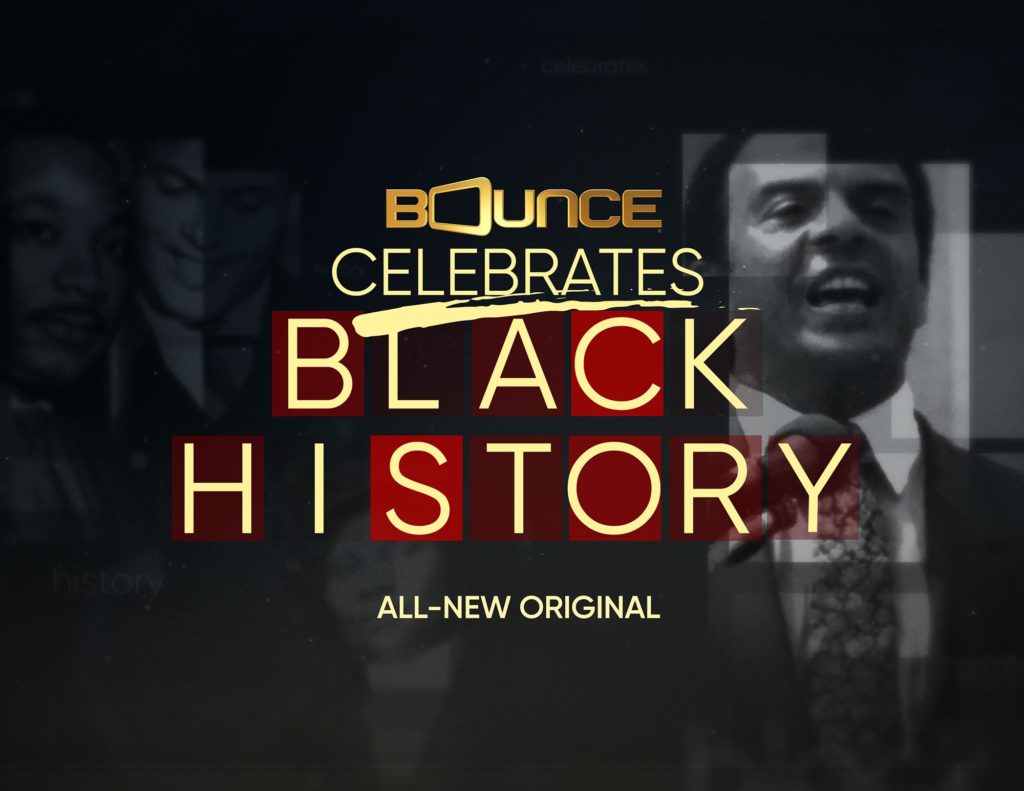 Download key art here: https://rb.gy/nauqp3 [ credit: Bounce]
ATLANTA (Feb. 5, 2020) – Brown Sugar , the popular subscription streaming service from Bounce, has announced new additions, popular returning titles and curated collections for February, Black History Month.
Queen Latifah, Common and Harry Belafonte headline the new, original one-hour special Bounce Celebrates Black History, presenting a collection of stories depicting the strength and courage of Black Americans, some never before heard, that made history and our nation a better place. The special covers people and events of historical significance including The Underground Railroad, Black Pharaohs, Martin Luther King, Jr., Dr. Charles Drew, Madam C.J. Walker, Green Book, Cinque Amistad, James Baldwin, Gordon Parks and a presentation of African-American firsts. Civil Right Icon Ambassador Andrew Young is featured prominently throughout Bounce Celebrates Black History, which premieres on Bounce on Monday, February 10 at 8:00 p.m. (ET) and then will be available for viewing on Brown Sugar.
Brown Sugar also debuts Mandela, the Oscar®-nominated, in-depth look at the life of Nelson Mandela covering his childhood, family, imprisonment and his long struggle with the anti-apartheid movement.
February's curated collections are " I'm Black and I'm Proud " featuring Mandela, King ( Paul Winfield, Cicely Tyson), Death of a Prophet (Morgan Freeman) and more for Black History Month. The " All You Need is Love " collection includes romantic films The Love Letter (Keisha Knight Pulliam), 24-Hour Love (Malinda Williams, Keith Robinson) and Love Will Keep Us Together (Nelson J. Davis) to celebrate Valentine's Day.
Fan favorites returning to Brown Sugar in February include the Academy Award®-winning ensemble film Crash, Frankie and Alice featuring Halle Berry, the satirical comedy Hollywood Shuffle, directed by and starring Robert Townsend, the 1975 coming-of-age film Cooley High, They Call Me Mr. Tibbs starring Sidney Poitier and Bojangles with Gregory Hines playing tap-dancing legend Bill " Bojangles" Robinson.
Brown Sugar is available on Apple TV, Roku, Chromecast, Comcast Xfinity X1, Amazon Channels, Amazon Fire TV, Amazon Kindle, Android and Apple smartphones and tablets and web browsers via BrownSugar.com. There is a free 7-day initial trial period for subscribers with a retail price of $3.99/month thereafter. Visit www.BrownSugar.com for more information. Brown Sugar and Bounce are both a part of The E.W. Scripps Company (NASDAQ: SSP).
# # #