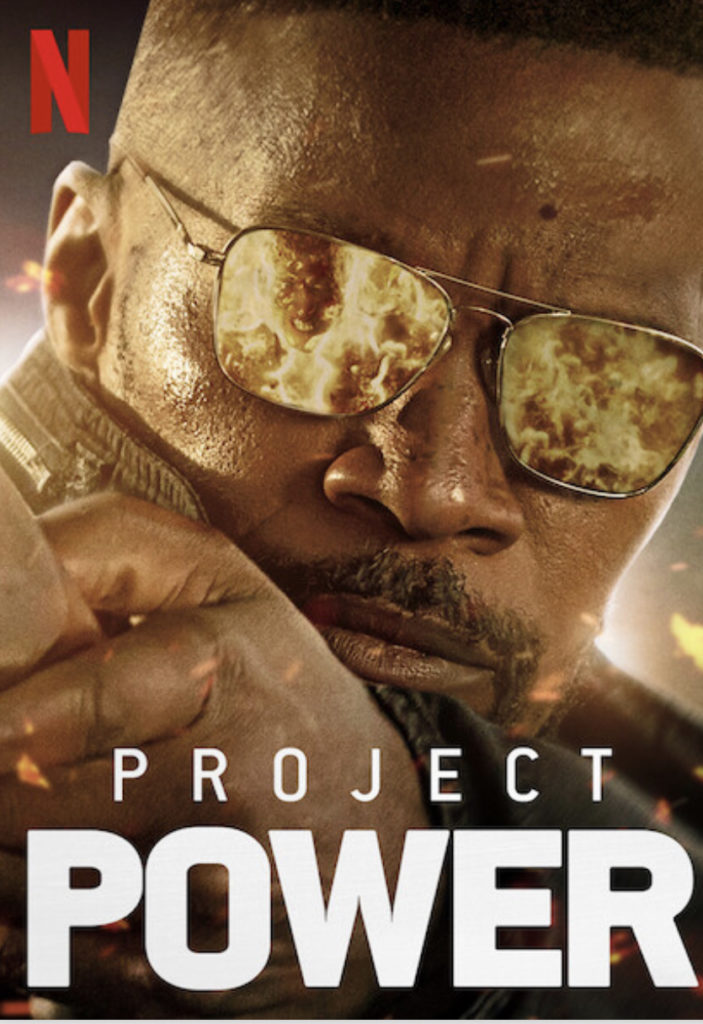 Jamie Foxx leads a talented cast and crew on th 85 million dollar Netflix action super hero film.
In the fictional world of PROJECT POWER, superpowers are obtainable in the form of a pill for anyone who chooses to take it (and survives). But the film highlights certain real-world truths about power for those who don't: In a system designed to keep power in the hands of those who have it at the cost of everyone else, any source of power found outside the norm must be nurtured and allowed to flourish by any means necessary.
At the heart of the story are three characters each fighting through their own systems in order to set things right. Robin is a teenage dealer and aspiring rapper trying to make ends meet by pushing Power in the streets of New Orleans. While she finds an older brother-like protector in Frank, a friendly but complicated local cop, he essentially works with Robin and uses the pills she peddles as a means to upend the power structures within his own police force. Robin's phenomenal abilities as an artist aren't recognized, however, until The Major rolls into town seeking to fulfill a vendetta against the people responsible for creating Power.
"When you first hear Robin rap, you can understand that's where her heart is and why she does the things she does. Art is the first and only person who really encourages her and helps her see what she's always meant to do," says Fishback. Says Tomlin: "The script underwent a lot of changes as scripts do when movies get made. But one of the scenes that basically never changed is the scene with Art and Robin when she's stitching him up and she starts talking about being a rapper. That scene is fun for a lot of reasons, but so much of what Art says is important: that the system is really designed to just tear you down and put you in your place and you have to find your powe​r — a way to break out. It was so clear to me that this had to be a fight-the-system movie." Leading that charge is Academy Award-winning actor, comedian, musician and consummate entertainer Jamie Foxx, who was the first person the filmmakers went to with the script.
"Jamie made me laugh harder than I've ever laughed in a professional setting," says Joost. "He's an amazing entertainer on every level, but especially as an actor. He brought so much humanity to this role. You just can't help but root for him on his journey."
Gordon-Levitt admits he would've taken the role based on Foxx's involvement alone, but he ultimately found the story to be a welcome antidote to the status quo. "Genre can get formulaic quickly and for a while it started feeling like a lot of movies were becoming too similar to one another. But the way that Henry and Rel approached shooting this film — it's going to be a refreshing, fun ride for people to watch," he says.
"Jamie and Joe are incredibly different," says Joost. "They have totally different styles which I think is why they're so great together and why they've had so much fun working together. Jamie literally has intro music every time he walks on set. He carries around this backpack with a speaker in it, and every time he walks on set, you hear some incredible song. When it comes to Joe, you turn around and realize he's been standing right behind you for five minutes watching the shot you've been setting up."
With two of their three leads in place, the filmmakers found in Dominique Fishback a young actress who could anchor the story emotionally and bring her two superstar co-leads together as a believable trio of heroes who form an unshakeable bond.
According to Schulman: "We needed a really strong actress and the chemistry reads would let us know if everyone worked together. When she and Jamie met, it just popped off right away. You could tell that she had the guts to go toe-to-toe with him, whether they're improvising or reading scripted lines, she had zero fear and he was so impressed. He looked over his shoulder at us and was like, 'She's the one.'"
"I was so surprised by the level of excitement and attachment I had with Robin when I first read the script. I remember getting the appointment to read for the part and not believing my eyes that both Jamie Foxx and Joseph Gordon-Levitt were already attached," says Fishback. The connection she made with her co-stars in those early reads became more evident in the camaraderie they eventually shared off-camera, as well. "Joe and I connected on so many philosophical levels. Family, fame, work ethic, fears. And Jamie was the life of the party. He was the hype man, but he became MY hype man during scenes as well, making me feel like I was more than enough. I remember filming a scene with him and saying, 'I'm acting with Jamie Foxx right now. This is surreal to me.' He said, 'Nah, nah, I'm acting with YOU.'"
Rounding out the cast are Emmy Award-winner​ Courtney B. Vance​ who plays Captain Craine, Frank's boss at the NOPD who may or may not know more about Power than he lets on; Colson Baker​ (aka Machine Gun Kelly) who makes his third appearance in a Henry & Rel film by playing Newt, Robin's cousin and fellow Power dealer who meets a fiery end after an encounter with Art; ​Rodrigo Santoro​ who plays Biggie, the main supplier of Power who aims totakethepillsoutsideofNewOrleansandontoaglobalmarket;and​Amy​L​ andecker​as
Gardner, a scientist working for the shadowy government group Teleios and the brains behind Power. When it came to finding someone who could write the lyrics for Robin's raps, Foxx also brought C​ HIKA​, a 23-year-old rap artist who had gone viral in 2018 for her freestyle takedown of Kanye West, to the attention of Joost & Schulman. "Jamie Foxx saw my Instagram and saw me rapping and thought I was dope and he wasn't incorrect," says CHIKA. The Alabama-born rapper initially thought the directors were crazy when they DM'd her on Instagram. But she came on board after reading the script and immediately connected with Fishback (who's a fan of spoken word poetry herself). "Dom and I just meshed really well and I could see her personality come through. It made it a lot easier for me to write the songs pretty quickly because I could tell how Dom already had a connection to her character and would want Robin to to say X, Y and Z. So the songs were just organic and came forth the way they needed to." In addition to writing Robin's raps and an original song for the film that's featured in the end credits and performed by Fishback, CHIKA also appears in a cameo as a classmate of Robin's. With Curtis Hanson's 8 MILE being one of Tomlin's favorite films and a source of inspiration for PROJECT POWER, it isn't hard to see why the gamble of incorporating rap into the film was a necessary one that ultimately paid off. "I'm not a huge musical guy. When people jump into song and dance, that's a level of fantasy that takes a long time for me to buy into, except when it comes to rap. There's something about watching rappers do their thing, that you just instantly get so hyped up because you know it's coming from a real charged place. You're only good if it's coming from an emotional place," says Tomlin.
"As ​a movie producer, you are a prognosticator and hopefully an optimist, but sometimes you're just reading tea leaves and hoping that you're looking at the right signs," says Newman. "You couldn't really predict where the rapping idea would go, but what Dominique and CHIKA did is amazing and a revelation.