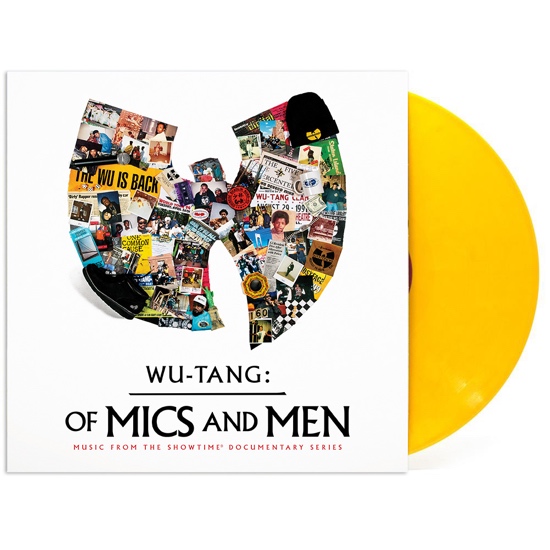 The soundtrack coincides with the broadcast of the acclaimed docuseries Wu-Tang Clan: Of Mics and Men, airing on SHOWTIME ® this month
New York, NY – May 15, 2019 – Mass Appeal Records/36 Chambers have announced they are releasing Wu-Tang: Of Mics and Men Soundtrack on Friday, May 17. The soundtrack, which is meant to accompany the critically acclaimed Wu-Tang docuseries airing on SHOWTIME this month, includes new music, plus skits featuring never-before-heard Wu-Tang Clan stories from footage that didn't make the documentary series' final cut.
The project is executive produced by Mitchell Diggs and Mustafa Shaikh and features contributions from Ghostface Killah, RZA, Raekwon, Masta Killa and Cappadonna.
Wu-Tang: Of Mics and Men features the classic Wu-Tang lyricism and sound that fans of the iconic group have been yearning for. With the docuseries, Wu-Tang Clan: Of Mics and Men, setting the tone for the project, the Wu-Tang swordsmen deliver rhymes that harken back to the group's earlier days.
"Wu-Tang Clan: Of Mics and Men is the definitive docuseries that explores and reveals our careers spanning over 25 years. The accompanying soundtrack is a great dose of some of those Men back on those Mics again," said Wu-Tang member RZA.
Wu-Tang Clan: Of Mics and Men, the four-part limited docuseries from filmmaker Sacha Jenkins (BURN MOTHERF*CKER, BURN!), premiered part one on SHOWTIME on Friday, May 10 at 9 p.m. ET/PT. Fans of the docuseries can also check out an immersive Wu-Tang Clan tribute in New York City at Dolby Soho from May 16-19 presented by SHOWTIME, along with Mass Appeal. The "WU-SEUM" at Dolby Soho is the only place fans can experience interactive Wu-Tang Clan music and clips from the SHOWTIME docuseries mastered in Dolby technologies.
TRACKLIST
On That Sht Again – Ghostface Killah, RZA
Seen A Lot of Things – Ghostface Killah, Raekwon, Harley
Project Kids (skit) – Nas
Do The Same as My Brother Do – RZA
Yo, Is You Cheo? (skit) – Cheo Hodari Coker
Of Mics and Men – RZA, Masta Killa, Cappadonna
One Rhyme (skit) – GZA & Masta Killa
Wu-Tang: Of Mics and Men soundtrack is available on all digital streaming platforms or at this link on May 17. Vinyl and special exclusive bundles will be available for pre-order on shop.massappeal.com and the official physical release will be this Summer.
About Wu-Tang Clan: Of Mics And Men
WU-TANG CLAN: OF MICS AND MEN follows the founding members – RZA, GZA, Ol' Dirty Bastard, Inspectah Deck, Raekwon the Chef, U-God, Ghostface Killah, Method Man, Masta Killa and Cappadonna – many of whom were childhood friends in the hardscrabble world of '70s and '80s Staten Island and Brooklyn. It's a look back on their careers, combining intimate and reflective interviews from each of the nine living members with never-before-seen archival footage and performances. Their ingenuity and entrepreneurial spirit brought them together to overcome the poverty, violence and oppression of their neighborhoods. But it was music and their shared lyrical genius that allowed them to form the most recognized musical movement in the world, all while walking the treacherous tightrope that links business with brotherhood. The docuseries is a Mass Appeal production in association with Endeavor Content. Peter J. Scalettar, Peter Bittenbender and Sacha Jenkins serve as executive producers. All episodes are now streaming on SHOWTIME.
About Mass Appeal
Mass Appeal is a media and entertainment company on a mission to represent and progress urban culture on a global scale. Since 1996, the brand has been documenting youth-born movements worldwide. Today, Mass Appeal is the dominant voice in urban culture. The company continues to elevate the conversation through premium, integrated offerings in original content, music, creative services and digital media.
About 36 Chambers ALC
36 Chambers ALC is a lifestyle company founded by RZA and Mustafa Shaikh to house innovative music, art, and fashion. In addition to "Wu-Tang: Of Mics & Men," the company has also released "Wu-Tang: The Saga Continues," Ol' Dirty Bastard's "Intoxicated EP" and the "Thriller" soundtrack. The company has held pop-ups for its fashion line at the Asian Art Museum and Lincoln Center.