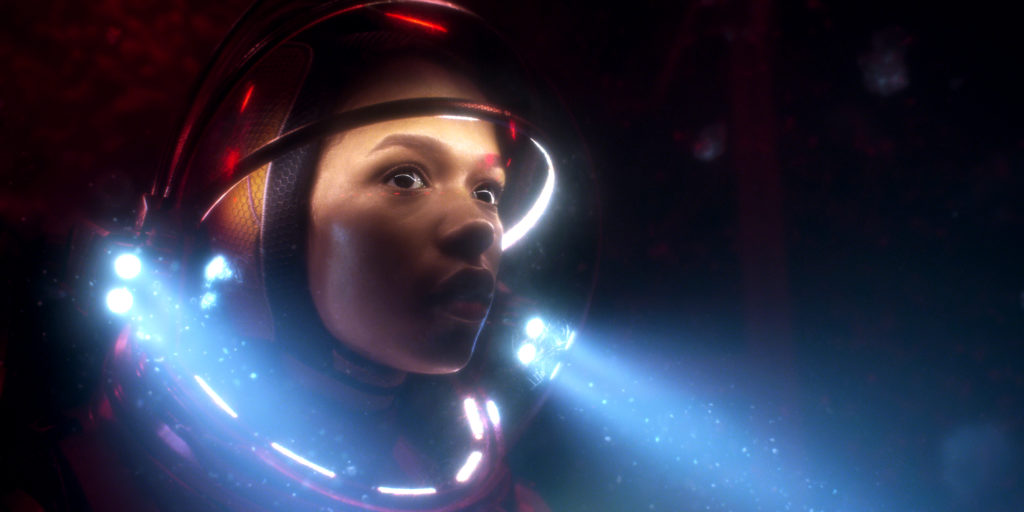 Season 1
is a Netflix Original dramatic and modern reimagining of the 1960's classic science fiction series.
Set 30 years in the future, colonization in space is now a reality, and the Robinson family is among those
tested and selected to make a new life for themselves in a better world. But when the new colonists find
themselves abruptly torn off course en route to their new home, they must forge new alliances and
work together to survive in a dangerous alien environment, lightyears from their original destination.
Produced by Legendary Television and written by Matt Sazama and Burk Sharpless (Dracula Untold, Last
Witch Hunter), Zack Estrin (Prison Break) serves as showrunner. All 10 hourlong episodes will become
available to Netflix members worldwide in spring 2018. "We've kept the core emotional content and values of the original
Lost in Space series, but updated it for today," says Estrin. "We explore relationships that are a bit more complicated, and there are going to be some questions from the original series that get answered."
The series stars Toby Stephens (Black Sails, Die Another Day) as John Robinson, and Molly Parker (House of Cards, Deadwood) as Maureen Robinson, the family's parental leaders who are struggling with their
estranged relationship while trying to keep their family safe. As the Robinson kids, Taylor Russell (Falling Skies) is the strong-willed and confident Judy, the eldest of the Robinson children. Mina Sundwall
(Maggie's Plan, Freeheld) is the quick-witted and definitive middle-child Penny, and Maxwell Jenkins
(Sense8, Betrayal) is the curious and sensitive Will, the youngest and the most vulnerable.
As the family adjusts to life on their new planet, Will forms an unlikely and inexplicable bond with a
sentient robotic alien being.
"The Robinsons are unique because each one of them is a hero in their own story," adds Estrin. "They all
have different skills, strengths and weaknesses – but it's about the way they all come together to work
as a team." Stranded on the lost planet along with the Robinsons are two outsiders who find themselves thrown
together by circumstance and a penchant for deception. The cunning and charismatic Dr. Smith is played
by Parker Posey (Café Society, Mascot, A Mighty Wind), and the roguish but equally charming Don West
is played by Ignacio Serricchio (Bones, The Wedding Ringer). "What's great about Lost in Space is that anything is possible," says Estrin. "You never know what challenges are going to be there. And you never know what you can find inside of yourself to survive." Sazama, Sharpless and Estrin are executive producers alongside Synthesis Entertainment's Kevin Burns and Jon Jashni with Applebox's Neil Marshall and Marc Helwig. The original Lost in Space series was
created by Irwin Allen. "At its core, Lost in Space is a family show and it's ultimately about these great characters," says Estrin. "They just happen to be in a different situation than everyone else."
THE RETURN OF A CLASSIC: ABOUT THE REIMAGINING OF LOST IN SPACE The original Lost in Space
series aired between 1965 and 1968. The story centered around the Robinson family, as well as the troublesome (and humorous) antics of Dr. Smith.The producers of the 2018 Lost in Space felt it was an opportune time to reimagine the series for a new audience. "When you look at the television landscape, there's not a lot of shows that you can watch with your kids and not feel like you're watching a show that's just for them," says Estrin. " Lost in Space is a show that I
can finally watch with my children. We can sit together as a family and all find something in the show to
fall in love with."
While they remain true to the classic in many ways, the reimagining of the series allowed the team to
put their own spin on the story and its characters. "The original had something really special that connected with an audience – that at its core, it's a family show and these people were good," says Estrin. "We wanted to hold onto those core values of the original and those original character dynamics, but bring the story into a more contemporary setting.
The relationships between the characters are a bit more complicated." The reimagined series will also give fans of the original a chance to see how far television production and technology have come in the last 30 years.
"I think that people who love the original show will really be drawn to this because we can do things
today that they could only have dreamt about back then," says Estrin.
ABOUT NETFLIX
Netflix is the world's leading Internet television network with more than 109 million members in over
190 countries enjoying more than 140 million hours of TV shows and movies per day, including original
series, documentaries and feature films. Members can watch as much as they want, anytime, on nearly
any Internet-connected screen. Members can play, pause and resume watching, all without commercials
or commitments.
###