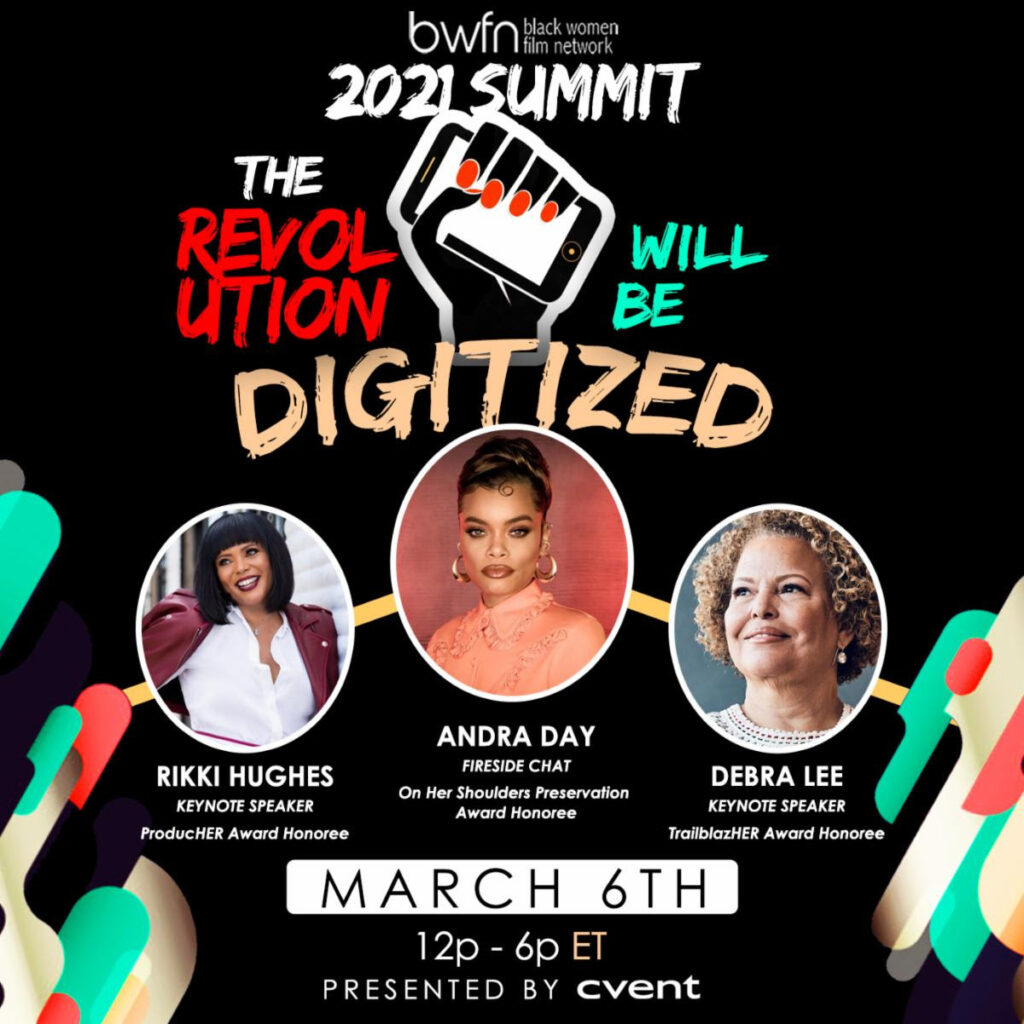 (LOS ANGELES) – February 24, 2021 – 
Black Women Film Network
 (BWFN) — the oldest non-profit organization focused on preparing Black women in the film, television, and new media industries — will honor industry power players 
Debra L. Lee, Andra Day 
and 
Rikki Hughes
 and others during its annual 
BWFN Summit
 taking place as a free virtual experience on 
Saturday, March 6, 2021
 from 12:00PM to 6:00PM EST. Registration is open 
here
.
This signature event is a cultural celebration of Black women in the arts and entertainment industry and features master classes, seminars and activities that connect key industry leaders with aspiring entertainment professionals. 
Presented by Cvent, the 2021 BWFN Summit kicks off during Women's History Month and will feature 40 Black women professionals from various areas of film and TV. These speakers represent brands such as ColorCreative, BET, WME, NBCUniversal, WarnerMedia, Netflix, Tyler Perry Studios, CNN, Starz and many more. Collectively, their work illustrates this year's Summit theme: "The Revolution Will Be Digitized: Black Women Leading in New Spaces as Multi-hyphenate Creators."
Additional sponsors of the Summit include 
USC Annenberg, Fritz Eyewear by Tasha Cobbs Leonard, Brooklyn Tea, Mahogany Wick Home, Midnight Reflections, World of Chris Collins, ConditionHER, The Rich Idea, 
Frances Grey NY, 
Marcus L. Artis Creative, Create Space Company 
and
 Just Ice Productions
. 
In keeping with a decades-long tradition of investing in the next generation of storytellers, BWFN will also award three scholarships to college students pursuing careers in film and television. 
"As an organization dedicated to supporting, nurturing and championing Black women in film and TV, we are thrilled to honor trailblazers who exemplify excellence in leadership, artistry and visual storytelling," says BWFN chair Jaunice Sills McSwain. "At BWFN, we have never been more excited about what the future holds for Black women in this industry and look forward to celebrating our contributions and empowering the next generation of creators at the Summit." 
The Summit takes place following a phenomenal year for Black women in film and TV. Black women directors released a record number of feature-length films in 2020 including, The Forty-Year-Old Version, Miss Juneteenth, The Old Guard and many more. We ascended to executive positions at major entertainment corporations such as Alana Mayo, President at MGM's Orion Pictures; Tara Duncan, President at Freeform; Wonya Lucas, President and CEO of Crown Media Family Netwoks which includes the Hallmark Channel; and Channing Dungey, Chairman at Warner Bros. Television Group.
Additionally, BWFN experienced significant growth in its social media following in 2020, amassing an active network of over 40,000 across its Facebook and Instagram platforms.
The 2021 BWFN Summit honorees are:
Debra L. Lee –  CEO Emeritus, BET Networks – TrailblazHER Award
Andra Day – Golden Globe Nominated Actress & Singer, On Her Shoulders Preservation Award
Rikki Hughes – Emmy & Grammy Award-Winning Producer, ProducHER of the Year Award
Miki Turner – Award-Winning Photojournalist, Producer & Associate Professor at USC Annenberg, Behind the Lens Award
Courtney Neal – Executive Producer & Founder of Create [Space], Black Woman Rising Award
Denise Armstrong – Award-Winning Actress, BWFN Member of the Year Award
2021 Summit panels and speakers are:
OPENING KEYNOTE: DEBRA L. LEE 
GIVE ME THE MIC: PODCASTING AND PRODUCING:
Join the Head of Branded Podcasts for Entercom Communications, Je-Anne Berry, as she teaches how to start, record, edit, publish, grow, monetize and sustain your podcast!  
POWER PITCHING: TURNING MY IDEA INTO A REALITY
Learn the art of pitching to networks and production companies from a buyer and seller's perspective with The REEL Divas.
PUT ME ON: I NEED REPRESENTATION
Hear from an agent, manager and lawyer about their decision-making process and roles in a writer's career.  Panelists include: Ashley Holland, Nina Gloster Burrell, Ashley Calloway, and Jaia Thomas. 
I'M READY FOR MY CLOSE UP: AUDITIONS 101
A fireside chat offering tips for growing confidence during the audition process and gaining exposure during a pandemic with casting mavens Rhavynn Drummer and Tomii Crump.
FRO'S, FASHION AND FACE 
Learn tips for how to become successful in hair, makeup, and wardrobe departments with Provi Fulp Ramphal, Shunika Terry, Stevie Martin and Jessica D. Lane Alexander.
HOW TO GET MY HEEL IN THE DOOR  
Hear from entertainment professionals on how to land your first job in the entertainment industry with Arian Simone, Luchia M. Ashe, Morenike Joela Evans and Sylvetta Christmas. 
CHIC CRITIQUES PODCAST 
Join film critic Mercendez Springer for a live conversation with Andra Day, star of Lee Daniels' The United States vs Billie Holiday. Joined by Ronda Racha Penrice and 
USC Professor Miki Turner, together these ladies will discuss this new film and the impact of Billie Holiday's legacy.  
CLOSING ADDRESS: RIKKI HUGHES
Register for FREE to attend the BWFN Summit
here
.
About Black Women Film Network
Established in 1997, the Black Women Film Network (BWFN) was founded to prepare black women to enter the film and television industries. The organization seeks to preserve the voice of these women through film and educational programs that empower and inform. A 501(c)3 non-profit, BWFN provides student scholarships, hosts screenings and workshops, and honors individuals who have excelled in this difficult industry. Visit BWFN online at 
blackwomenfilm.org
. Follow us on 
Instagram
 and 
Facebook
.
About Cvent 
Cvent
 is a leading meetings, events, and hospitality technology provider with nearly 4,000 employees, 30,000 customers, and 300,000 users worldwide. Founded in 1999, the company delivers the most comprehensive event marketing and management platform and offers a global marketplace where event professionals collaborate with venues to create unmatched experiences. The comprehensive Cvent event marketing and management platform offers software solutions to event organizers and marketers for online event registration, venue selection, event marketing and management, virtual and onsite solutions, and attendee engagement. Cvent's suite of products automate and simplify the entire event management process and maximize the impact of in-person, virtual, and hybrid events.  Hotels and venues use Cvent's supplier and venue solutions to win more group and corporate travel business through Cvent's sourcing platforms and to service their customers directly, efficiently and profitably – helping them grow and own their business. Cvent solutions optimize the entire event management value chain and have enabled clients around the world to manage millions of meetings and events. For more information, please visit 
Cvent.com
, or connect with us on 
Facebook
, 
Twitter
 or 
LinkedIn
.