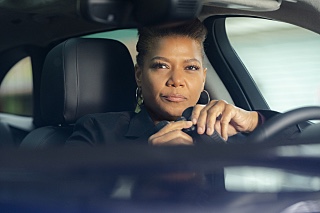 THE EQUALIZER is a reimagining of the classic series starring Academy Award® nominee and multi-hyphenate Queen Latifah ("Chicago," "Bessie") as Robyn McCall, an enigmatic woman with a mysterious background who uses her extensive skills as a former CIA operative to help those with nowhere else to turn.
McCall presents to most as an average single mom who is quietly raising her teenage daughter. But to a trusted few, she is The Equalizer – an anonymous guardian angel and defender of the downtrodden, who's also dogged in her pursuit of personal redemption. Robyn's clandestine work remains a secret from her smart and observant daughter, Delilah, and her aunt Vi, who lives with Robyn to help her balance life as a working mother. Joining Robyn as champions of justice are William Bishop, her former CIA handler and longtime friend; Melody "Mel" Bayani, an edgy bar owner and a colleague from Robyn's past; and Harry Keshegian, a paranoid and brilliant white-hat hacker.
As Robyn aids the oppressed and exploited, her work garners the attention of shrewd NYPD Detective Marcus Dante, who doggedly seeks to uncover the identity of the vigilante known as The Equalizer.
​Queen Latifah is an Academy Award–nominated and Golden Globe Award-winning actress, Grammy Award-winningrecording artist, Emmy Award-winning producer, label president, author and entrepreneur.  
Latifah received an Academy Award nomination for Best Supporting Actress, a Golden Globe nomination and a SAG nomination for her portrayal of Mama Morton in the feature musical "Chicago" and an Emmy Award nomination, Golden Globe Award and SAG Award for her role in the cable film "Life Support." Additionally, Latifah earned an Emmy Award nomination, Golden Globe nomination and SAG Award for Outstanding Performance by a Female Actor in a Television Movie or Miniseries for her role in the cable film "Bessie," which she also produced.
​Latifah's additional topline credits include "Living Single" on television, and the feature films "Girls Trip," "Hairspray," "Taxi," "Set it Off," "Last Holiday," "Barber Shop 2: Back in Business," and voicing the character Ellie in the "Ice Age" film series.
​In 1995, Latifah and her producing partner, Shakim Compere, founded Flavor Unit Entertainment. The pair has produced the hit feature comedies "Bringing Down the House," "Beauty Shop," "The Perfect Holiday," "The Cookout," "Just Wright," as well as "Bessie" and "Life Support." Separately, Latifah executive produced the highly successful 2020 cable television film "The Clark Sisters: First Ladies of Gospel."
Flavor Unit's upcoming feature projects include "The End of the Road" and Ray Giarratana's "The Tiger Rising," for which Latifah will both produce and star. Also, she will headline the sports drama "Hustle" opposite Adam Sandler, and Angela Tucker's teen comedy, "Paper Chase." 
​Latifah is an advocate for scleroderma-associated interstitial lung disease, as her mother suffered from and later succumbed to the disease. Recently, she produced thedocumentary "Beyond Breathless" to bring awareness to the illness, educate the public and share her personal experience living with her mother's sickness. 
Born and raised in Newark, New Jersey, Latifah began her foray into the entertainment industry as a signed rapper, releasing her first album at 19 years old. She revolutionized the hip-hop industry, rapping about topics surrounding her experience as a Black woman. Dubbed the "Queen of Jazz-Rap," Latifah has released seven studio albums, sold nearly 2 million records worldwide and is the first female hip-hop recording artist to be nominated for an Academy Award.
Series premieres 

Sunday, Feb. 7

 immediately following Super Bowl LV, on the CBS Television Network. 
| | |
| --- | --- |
| ON AIR:  | Sundays (8:00-9:00 PM, ET/PT) |
| | |
| --- | --- |
| FORMAT: | Drama (Filmed in HD) |
| | | |
| --- | --- | --- |
| STARRING: | Queen Latifah | (Robyn McCall) |
| | Tory Kittles | (Detective Marcus Dante) |
| | Adam Goldberg | (Harry Keshegian) |
| | Liza Lapira | (Melody "Mel" Bayani) |
| | Laya DeLeon Hayes | (Delilah) |
| WITH: | Lorraine Toussaint | (Viola "Vi" Marsette)  |
| AND: | Chris Noth | (William Bishop) |
| | |
| --- | --- |
| PRODUCED BY: | Universal Television, a division of Universal Studio Group, in association with CBS Studios  |
| | |
| --- | --- |
| EXECUTIVE PRODUCERS: | Andrew W. Marlowe, Terri Edda Miller, Dana Owens (Queen Latifah), John Davis, John Fox, Debra Martin Chase, Richard Lindheim, Shakim Compere and director Liz Friedlander (pilot only)  |
| | |
| --- | --- |
| CREATED BY: | Developed for television by Andrew Marlowe and Terri Miller, as based on the original series co-created by Richard Lindheim  |

Facebook: https://www.facebook.com/theequalizercbs
Twitter: https://twitter.com/theequalizercbs
Instagram: @theequalizercbs
CBS Twitter: https://twitter.com/CBSTweet
Cast and crew on social:
| | | | |
| --- | --- | --- | --- |
| | Twitter | Instagram | |
| Queen Latifah | @IAMQUEENLATIFAH | @queenlatifah | |
| Tory Kittles | @ToryKittles | @torykittles | |
| Adam Goldberg | @TheAdamGoldberg | @theadamgoldberg | |
| Liza Lapira | @lizalapira | @lizalapira | |
| Laya DeLeon Hayes | @layahayes | @layadeleonhayes | |
| Lorraine Toussaint | @LPToussaint | @lorrainetoussaint | |
| Chris Noth | n/a | @chrisnothofficial | |
| Andrew Marlowe | @AndrewWMarlowe | n/a | |
| Terri Miller | @TerriEdda | n/a | |
| Debra Martin Chase | @DebraMChase | @debramchase | |