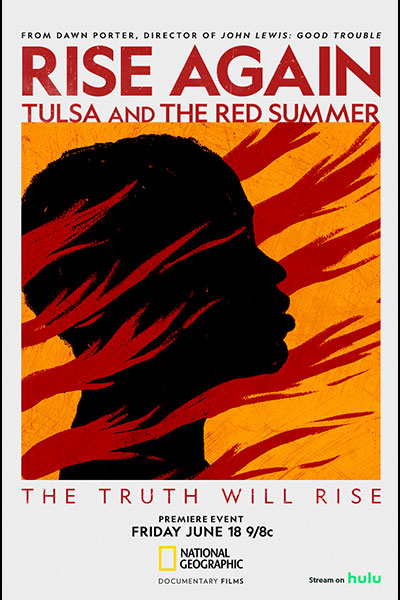 National Geographic Documentary Films, in partnership with acclaimed filmmaker Dawn Porter ("The Way I See It," "Good Trouble: John Lewis") and Trailblazer Studios, is set to premiere the feature documentary that sheds new light on a century-old period of intense racial conflict. RISE AGAIN: TULSA AND THE RED SUMMERcomes one hundred years from the two-day Tulsa Massacre in 1921 that led to the murder of hundreds of Black people and left thousands homeless and displaced. The film will premiere on National Geographic on Friday, June 18, at 9 p.m. ET/PT and will air globally in 172 countries and 43 languages. It will also be available to stream on Hulu the same day, commemorating Juneteenth, when the last enslaved Black people in Texas received news of their emancipation.
Award-winning Washington Post journalist and Oklahoma native DeNeen Brown is at the heart of the film, reporting on the search for a mass grave in her native state. Digging into the events that led to one of the worst episodes of racial violence in America's history, Brown reveals insights into racial conflict incidents that erupted in the early 20thcentury. Between 1917 and 1923, when Jim Crow laws were at their height and the Klu Klux Klan was resurging across the nation, scores of Black homes and businesses were razed, and hundreds of Black people were lynched and massacred with impunity.
Brown's reporting highlights the revived call for justice for victims and survivors. Following a 2018 investigative report, Brown explores the current new anti-racism movement in the context of the Tulsa Massacre and the Red Summer. With access to family members of those killed, city officials, archeologists, and historians, the film reveals the decades-long effort by descendants and community members to find victims' bodies and unearth truths that have been suppressed for nearly a century. RISE AGAIN: TULSA AND THE RED SUMMER also untangles the role the media played in covering events at the time in order to reveal the full extent of the nation's buried past.