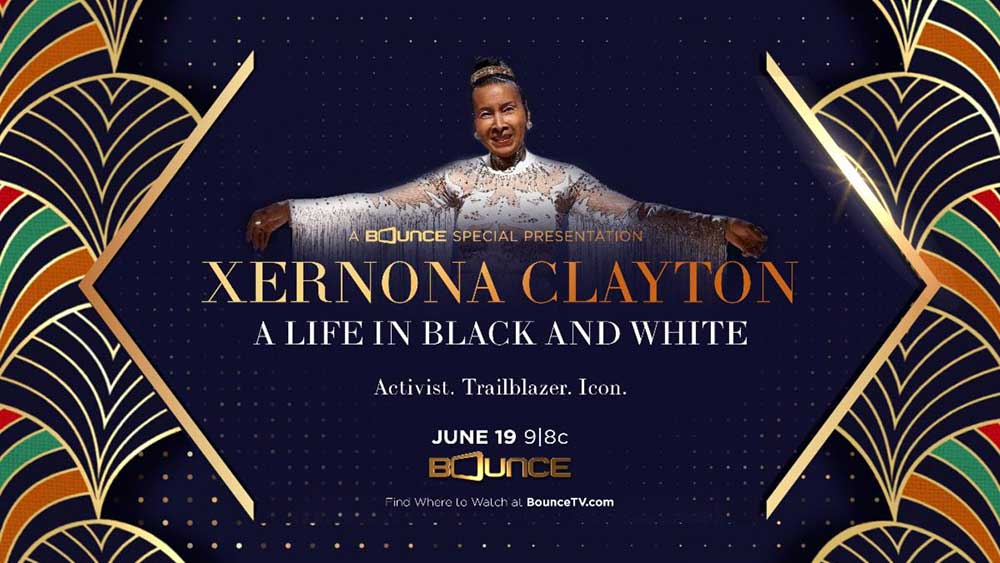 "Whatever she does…she does in the spirit of love." – Martin Luther King III
"She sees people for who they are – and what they are capable of achieving." – Emmitt Smith
"She put a spotlight on a lot of people – to be seen by a lot of people." – Pamela Poitier
"If I'm able to takeoff it's because people like Xernona Clayton paved the runway so smooth."
– Senator Raphael Warnock
ATLANTA ­– Bounce TV, the popular broadcast and multi-platform entertainment network serving African Americans, will recognize Juneteenth with the premiere of an exclusive new documentary, "Xernona Clayton: A Life in Black and White" on Monday, June 19, at 9 p.m. ET/8 p.m. CT. Celebrating the life of one of the most unheralded civil rights icons and African American pioneers of our time, the documentary tells the amazing story of Xernona Clayton, an extraordinary woman who has impacted our country so respectfully and quietly that many aren't aware of her enormous contributions.
From her modest beginnings in Muskogee, Oklahoma, Clayton has made it her life's work to promote racial understanding. Told from her perspective, as well as through the eyes of family and friends, "Xernona Clayton: A Life in Black and White" will spotlight the person who over her incredible career became the first Black woman in the South to have her own TV show, helped write the blueprint to desegregate hospitals in the South and even convinced a KKK Grand Dragon to renounce his position as well as the organization.
"Xernona Clayton: A Life in Black and White" will be an elegant march through Clayton's nearly century-long life, from her years working as an aide and close friend to Dr. Martin Luther King and Coretta Scott King, through her pioneering broadcasting career with Ted Turner, which led to the creation of the Trumpet Awards. Designed by Clayton to recognize the outstanding accomplishments of African Americans and those who have succeeded against great odds and inspired success in others, the Trumpet Awards recently celebrated its 30th anniversary.
"Xernona Clayton: A Life in Black and White" includes insights from Ambassador Andrew Young, Martin Luther King III, Pamela Poitier, and broadcasting legends Tom Johnson and Pat Mitchell. Senator Raphael Warnock, NFL Hall of Famer Emmitt Smith, actor and rapper Tip "T.I." Harris and other influential personalities also discuss their experiences with Ms. Clayton. The film is produced and directed by Emmy and Peabody award-winning director and producer Nancy Saslow and her Mishpookah Entertainment Group and executive produced by David Hudson.
Following its Bounce premiere, the documentary will be available on Brown Sugar, Bounce's subscription video-on-demand service, where viewers can catch up on all Bounce originals anytime exclusively. Brown Sugar is available on Apple TV, Roku, Chromecast, Comcast Xfinity X1, Cox Contour, VIZIO TVs, Amazon Prime Video, Amazon Fire TV, Google TV and Android and Apple smartphones and tablets. Visit www.BrownSugar.com for more information.
"Xernona Clayton, The Podcast" is an eight-part companion podcast series to the documentary with episodes being made available on all major podcasting platforms beginning on Juneteenth. Hosted by Michelle Miller of CBS News, it treats listeners to more details and behind-the-scenes stories from Ms. Clayton, who openly shares the pivotal chapters and personalities of her influential life with candor, humor and grace.
Watch the extended trailer here.
# # #