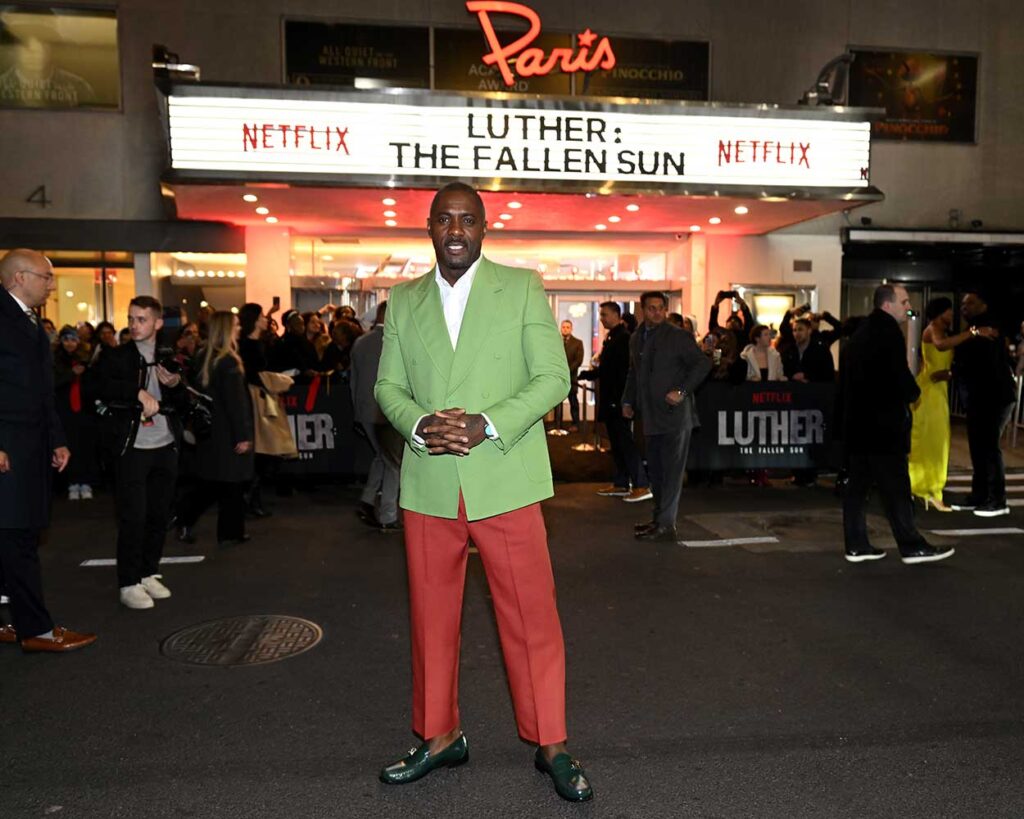 After playing John Luther across five seasons of television, what inspired you to make a
feature film?
The idea that we can take the people who have watched
Luther for five seasons into a new scale of the story, his story, it's exciting to me. The fans have really worked for it in the sense that they really wanted it. And I wanted to try and amplify what we've done with the television show. I'm inspired by the writing that Neil Cross does, which is really dark. It's a great examination of good versus evil, so that's why we're making these bigger stories for the audience. From the title sequence, I just want people to have that moment like, they did it: they made a movie. But, you know, it has all the things they expect from the show, the psychological tension, some humor, the darkness that people expect and that moment that makes everyone jump out of their seats.
The film reunites you with your creative collaborators, director Jamie Payne and
creator-writer Neil Cross. How was it getting the band back together?
I'm really proud of Jamie. He invested so much time in the fifth season and he really knows the DNA of Luther like no other besides Neil Cross and myself. We're kind of protective of the
DNA, and Jamie's one of those guys who understands it. And it's been really great as a
producer to bring a first-time feature film director to a film of this scale. It's been really
satisfying to watch. He's dedicated months and months and months, if not years, before we
made the first shot. And he's incredible to work with, very open. Neil is the architect.
All this dark stuff comes from that man's head. What an imagination.
[Laughs] But he's a craftsman. He really understands suspense and really understands how to push someone's fear boundaries without being grotesque. I mean, with John, it's very tension building, and that's what Neil does really well. Also, as a producer he understands the world of Luther very well. He knows what is in place, what's out of place. Neil is another pillar ofLuther-land.
Where is Luther when we meet him in the film?
John is in jail after being reprimanded by the police. He's done so much to bend the law in order to catch the bad guys that he's ended up in jail. So that's where we start the story and
he's contemplating what he's going to do with his life. While this is actually a continuation of
the series, even if you haven't seen the series you're picking up from a story you can relate to.
What starts happening in the world?
This old case that didn't really ever get solved creeps up back into his life. He can see it on the television from the prison that this murderer is back out there. And John just can't help but
find a way to get involved. He can't sit in jail while this bad guy is out there lurking in people's
lives and preying on their insecurities online. He has to get out and get him.
What kind of man is David Robey, the villain played by Andy Serkis?
He's a clever, manipulative man who has real bad insecurities of his own and is angry at the
world for his shortcomings. He's very dangerous and very narcissistic.
Cynthia Erivo plays DCI Odette Raine, Luther's old job. She has issues of her own.
What was it like working with Cynthia?
She's very, very talented in everything she does. She has incredible range. And acting is just
one of the things she does. She also has this real gravitas to her. She really has a lot of life
energy. And her character Raine does too. She is a Black woman in a high position and that
takes some real courage. Cynthia just brings it all into that character and brings Raine to life.
What makes Andy Serkis the right choice for Robey?
This is where I fanboy out a little bit. I love Andy Serkis. I think he's just mind-blowing as a
talent — actor, director, innovator of film. And, you know, he's the nicest guy but what's
interesting is that he has this mysterious side, a twinkle in his eyes and you're not sure. He's
always got some mad thing going on in his head. So it's really intriguing to talk to him because
you're not sure if you're getting it all because he's such a mad genius. But he brings that to
Robey. Robey is persuasive, likable, a people reader. It really takes a sophisticated actor to pull that off while making him quite scary and unpredictable.
Had you always envisioned Dermot Crowley returning as Schenk?
It was always clear. Dermot is just one of the anchors of
Luther. I love working with Dermot and
Schenk is an incredible character.
Why do you think you and the audiences keep wanting to return to
Luther?
I think it's a combination of things but, you know, it's escapism. It's like real adult escapism. It's
dark, and I think it appeals to people of that other nature that don't mind stepping into the dark
corners of our minds. But I think the escapism is what really brings people back. And then,
you've got the central character, John who is just a bull in a china shop for justice. No matter
how he gets it, he wants justice. And I think that's a dying breed, the tough, ruined detective.
Each season, I tried to bring an innovation of freshness and honesty that would take the
audience deeper. With this film we go even further.
Can fans expect a few easter eggs from the series?
Definitely, fans who stuck with the series will see Easter eggs, nods, moments, just for the
fans, you know, little bits. That was important to all of us, myself, Neil, Jamie that, even though the audience doesn't need to have seen the show, for those who have they can kind of go,"Oh! Ah! Remember!" I'm really happy to do that for the family.